Join the Summer Raffle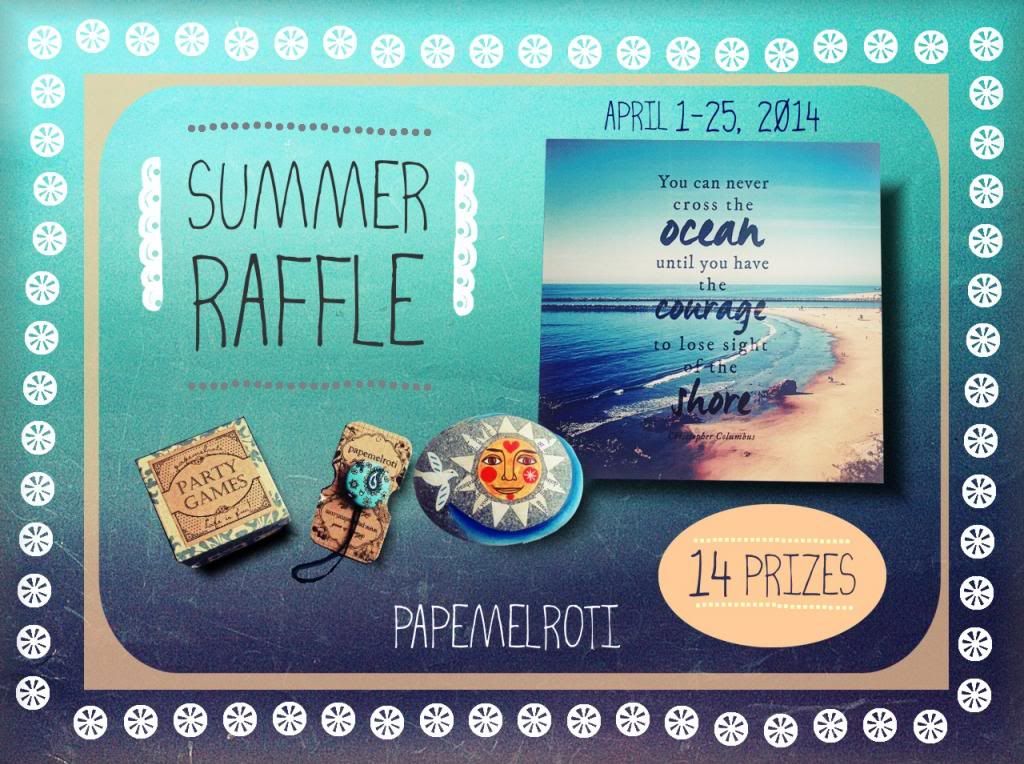 ---------  This contest is closed ---------
Congratulations Stephanie Ruth B. Villanueva from Tondo, Manila!!!
She said, "Papemelroti is truly one of the stores that I really like, its not just because of the product itself but also the inspiring messages you show to your customer, continue to inspire others by your product."
Thanks to everyone who joined!!!
-----------------------------------------------
Summer is here!  We're giving away a summer gift pack!!!
2014 Shell Calendar Poster
Fun Shell Pouch or Shoebag
Choose Happiness Folding Fan
Figgy and Bruno Matching Beach Figurines
Waterproof Earth Friend Choker or Double Tie Bracelet
Earrings Braid Dangling Earrings
Here are more information on the prizes...
Ocean Photo Deco Poster
A soothing beach scene you can bring with you into your home!  This plaque will motivate you to reach your dreams, persevering without looking back!
 Photography and design are by Papemelroti graphic artist Elyse Pilapil.  A no frills plaque perfect for modern homes.  
Size 11" x 11" x 1/2", 300g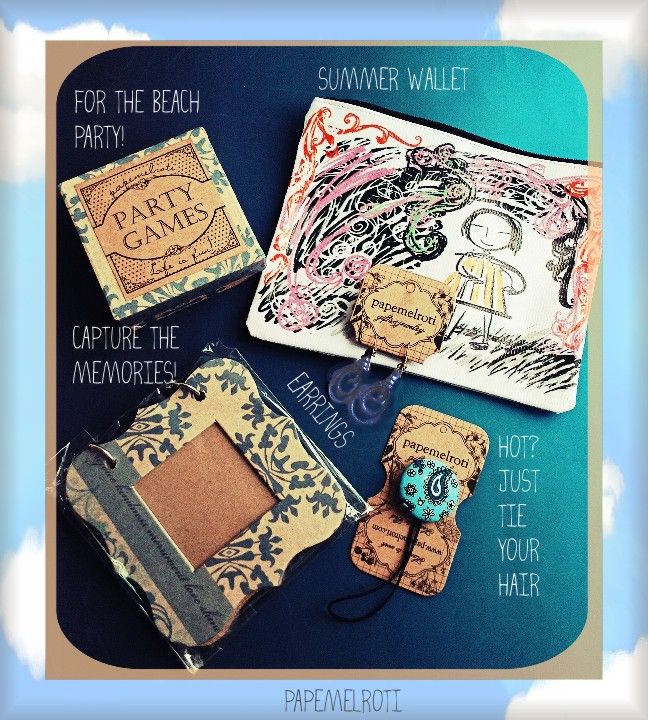 Summer Wallet
to put your tissue, toiletries or sunblock for the beach!  A washable, lightweight and durable item to carry around.
Paisley Dot Hair Tie
to put your hair in its proper place!  Cute blue design too!
Party Games Paper Pack
to have ideas on what activities you can do on the beach or at the summer events you'll be going to!  
Life is fun!  
Never have a dull moment!  
Play the 
47 
easy games at any type of party.  Each idea identifies what materials are needed, number of ideal players, instructions and gameplay variations.  A successful event is just a party pack away!
Picture Frame Booklet
Put your memories here!  Put a picture on the cover for easy identification of your photo album!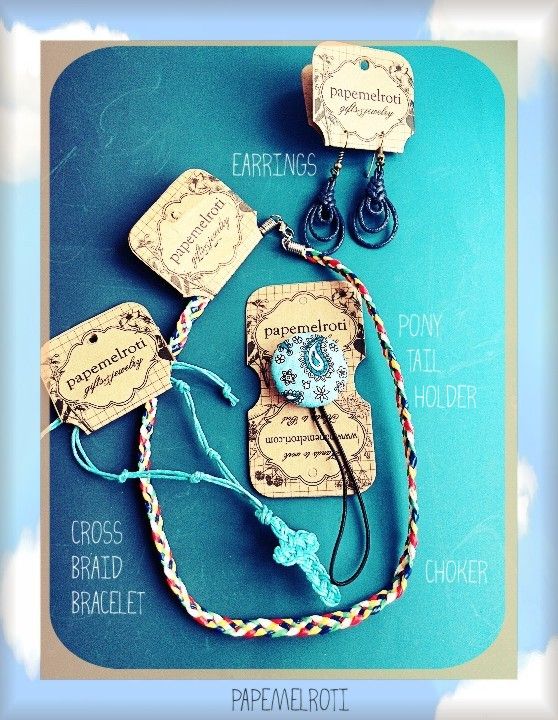 Earrings Braid Dangling Earrings
A delicate but durable accessory in dark blue.  So beautiful to wear!  Individually handcrafted with care.
Cross Braid Bracelet
A beautiful reminder of your faith that you can wear when you travel.  So light and finely made.
Waterproof Earth Friend Choker or Double Tie Bracelet
Save the earth one piece of hand-braided jewelry at a time.  Waterproof and perfect for the beach.  Wear it as a choker or as a bracelet (double wrap).  Made of recycled materials.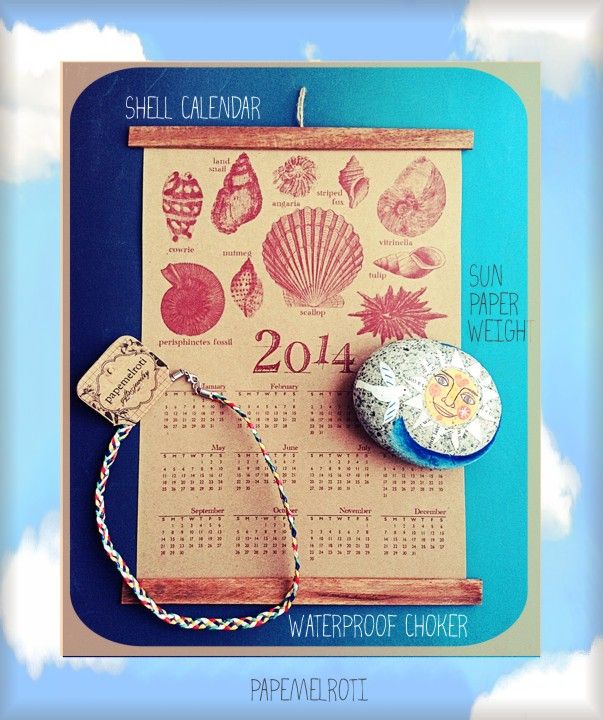 2014 Shell Calendar Poster
a Kraft Poster made from 100% unbleached recycled paper.  
Size 7.5" x 11" with stained palochina sticks top and bottom
Sun Paperweight
Keep your beach or picnic mat in place and in style(!) with this original Robert Alejandro designed paperweight!  Artistically designed with paper and paint!  A great giveaway!  Each rock is individually handcrafted with care!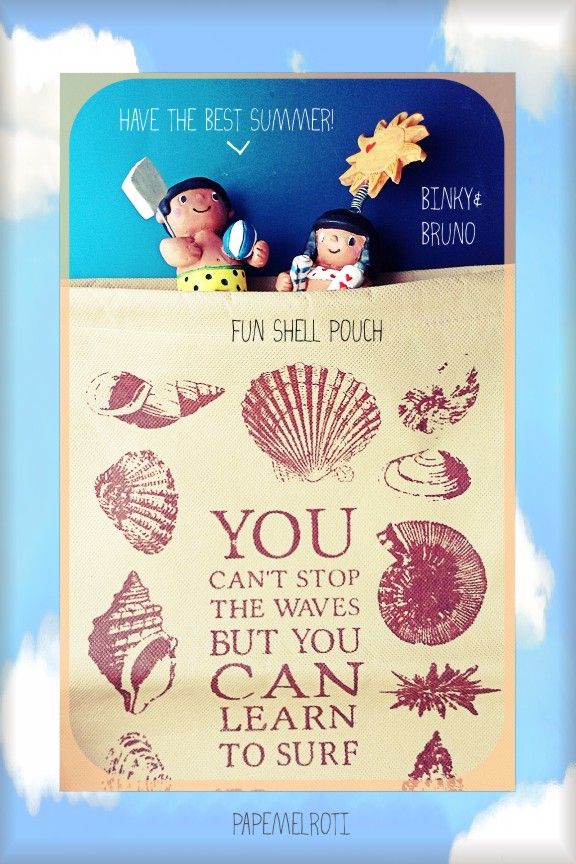 Figgy and Bruno Matching Beach Figurines
They are here to remind you of the great time you had on the beach!  Made of durable resin.
Fun Shell Pouch or Shoebag
with an original one-color design that is ideal for storage or travel.  Made of Polymat non-woven bags which are thin and lightweight.  
A livelihood project for a challenged urban community.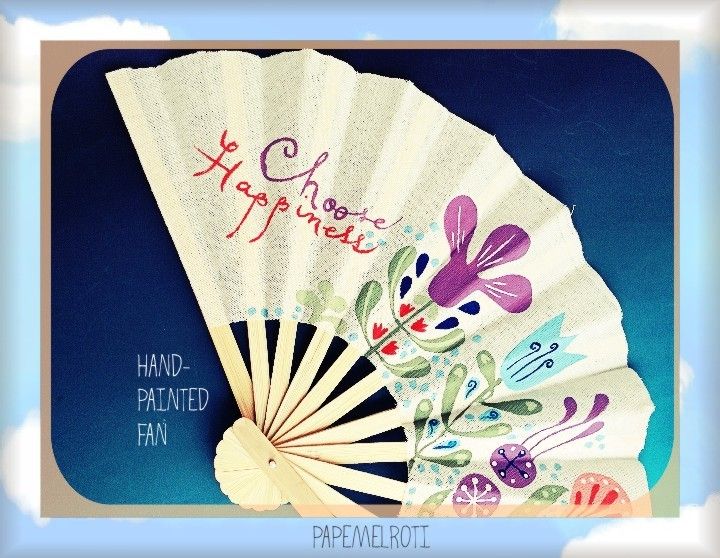 Choose Happiness Folding Fan
with an original design by Robert Alejandro and an inspiring message that you can draw strength from every day
Purchase P200 or more worth of Papemelroti products.  (You can also present your official receipts from purchases since start of 2014.) 
2. Write down the following details on the back of your official receipt.
2. Please make your handwriting clear (or we won't be able to inform you in case you won!)
3. Put in designated  box in the store.
Take Note:  The contest runs from April 1, 2014 to April 25, 2014  We will pick the winner via raffle.  We will contact the winner using the information they have given us and announce in our e-Newsletter and social media.
We will announce the winner as soon as he/she replies to our e-mail.  Sadly if after 3 days we have not heard from the winner, we will need to pick another person.