Vintage Finds Giveaway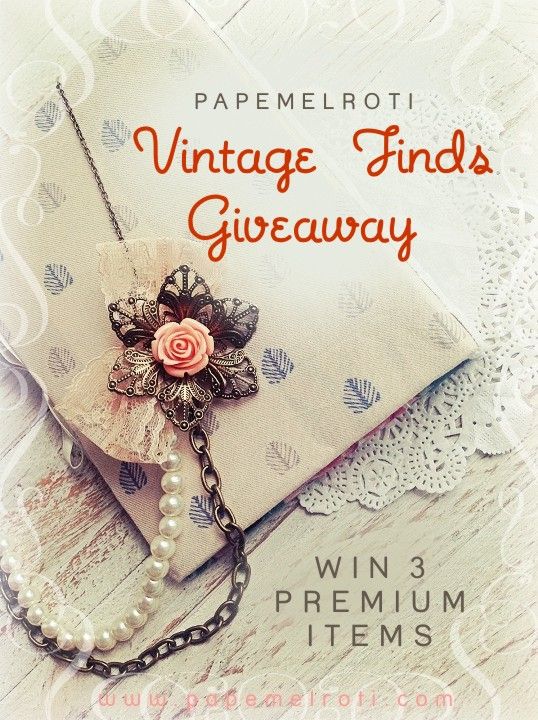 ++++++++++++++++ This Contest is Closed ++++++++++++++++ 
We are now waiting to hear from the winner!
"Looking old, though new as can be
Keepsakes such as these are lovely to see
Who the winner will be, no one can say
These things of beauty to cherish every day"
Time for a July giveaway!  Are you ready?
We're giving away three premium items to one lucky winner!
See the flower, chintz fabric and pearl?  They each belong to one of the trio of prizes.
Prize no. 1 is a Vintage Collage Book Cover
A friendship stitched in time is so fine.  So many intricate handmade parts make this a beautiful gift for a friend.  A reusable cover for your book, notebook or bible, this adds such wonder to your reading.  Inside are garters to secure the pages.  Made of cloth, lace and dainty components.
Size 6.75 x 5.125 x 1.25 inches
Prize no. 2 is a Vintage Travel Bracelet
For the avid traveler and dreamer.  Keep the elegance of Paris around you.  It's got the Arc de Triomphe, Je t'aime, Pearl, Globe, Eiffel Charm, Suitcase and Eiffel Tower.  An extender is there in case you need it bigger.
Prize no. 3 is a Long Rose Pearl Pendant
An elegant yet simply styled piece.  It lengthens your look with a single slim, long chain and  two rows at the center.  The metal flower base and rose hang at the side for an asymmetrical effect.
Anyone in the world can join this contest.
It's so very simple to join!
Just fill up the Rafflecopter form below.
Submit your entries at our Rafflecopter above and get extra entries there too! 
It's got easy to do tasks such as tell us your first impression of Papemelroti (the company / the shop / the website etc).
*Be sure to really do the tasks as we check each and every one.
*Also make sure that the accounts you have are not dedicated to purely giveaways.  We will not count those.
*This contest is o
pen worldwide but shipping costs must be shouldered by participants. 
The winner (if in the Philippines) can get the business pack via the nearest Papemelroti branch.
The contest ends on July 23, 2014 (Wednesday).
We will be contacting the winner via e-mail and will announce it also in our August e-Newsletter so watch out for that.
*Winners must reply within 3 days or we will sadly have to pick another winner.